Tuesday, July 25 | 12:00 p.m. (ET)
If you're a U.S. company looking to expand your rail business internationally, you can benefit from the various programs and services offered by the U.S. government. The U.S. Commercial Service's global network of trade professionals can assist you in finding potential partners, customers, and distributors in potential export markets. The U.S. government also offers various financing programs to support export activities.
To learn more about these programs and how they can help you grow your rail business internationally, join representatives from the International Trade Administration at RSI's upcoming webinar.  
Our Presenters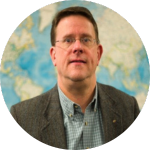 Richard Boll
Richard Boll has been with the Department of Commerce for over 27 years working on numerous international trade issues, including trade missions, trade conferences, and trade negotiations (Australia, Bahrain, Korea, Malaysia, Thailand, TiSA, TPP, TTIP and at the WTO).  Mr. Boll served as DOC's lead services negotiator for Australia, Bahrain, Malaysia, and Thailand FTA's. He is a member of the Supply Chain Team and currently works on freight rail and trucking. 
Mr. Boll is the Designated Federal Officer (DFO) for two advisory committees: ITAC 10 (Services), and the Advisory Committee on Supply Chain Competitiveness (ACSCC).  DFO ensures the operation of the committee including development of meeting agenda and reports, chartering and re-chartering of the committee, and constant interaction with members on the committee.
During his time at DOC, Mr. Boll has received various awards, including a group Silver Metal award for reducing trade costs and delays through freight policy and legislative work. Mr. Boll has an MBA in International Business from American University and a BS degree from Ithaca College.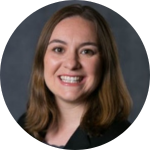 Chrystal Denys
Chrystal Denys is a Commercial Specialist with the U.S. Commercial Service's liaison office to the European Bank for Reconstruction and Development (EBRD).  Based in London, Chrystal helps U.S. companies to understand the bank and procurement opportunities in its 38 countries of operation.
Chrystal has been with the U.S. Commercial Service since August 2007.  She originally joined Commercial Service United Kingdom, where she helped U.S. companies to enter and to expand in the British market.  Over the years she covered a variety of portfolios including: Education & Training, Financial Services, Travel & Tourism, Aerospace and Defense, Apparel and Textiles, Consumer Goods, General Industrial, and General Services.  Chrystal joined the EBRD liaison office in July 2021.
Originally from New Jersey, Chrystal has lived in the UK since 2006.  She attended the George Washington University in Washington, DC, where she earned her Master's Degree in Tourism Administration and her Bachelor's Degree in Business Administration.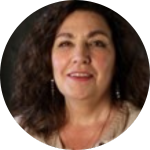 Juanita Harthun 
Juanita Harthun is the Global Automotive and Smart Mobility Team Leader with the U.S. & Foreign Commercial Service. In that role, she coordinates with 200+ domestic Trade and Foreign Commercial Service Specialists, located throughout the U.S. and in the U.S. Embassies and Consulate, whose portfolios cover the automotive and smart mobility industry sector.  The Global and Smart Mobility Team's purpose to support U.S. automotive and smart mobility companies to sell into new markets and expand sales into existing markets, provide market insights to U.S. businesses and educate U.S. companies on potential export markets.
Juanita has worked as a Sr. International Trade Specialist with the U.S. Commercial Service in Charlotte NC since 2000. She earned her undergraduate degree in Business Administration from the Michael G. Foster School of Business at the University of Washington in Seattle and her Master of Business Administration from the Babcock School of Management at Wake Forest University.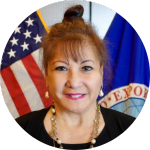 Susan Kintanar 
Susan Kintanar joined the Export-Import Bank of the United States in July 2012. She serves as the Regional Director for the Eastern Region. Susan has worked in international banking for over 30 years, from Asian International Bank, UBAF Arab American Bank, European American Bank, National Bank of Canada, Fidelity National Bank, Citibank and Regions Bank. She graduated from New York University with a Masters Degree in Industrial Psychology and also graduated from Pace University NY with an MBA in Strategic Management. She frequently is an invited speaker to various international professional associations. In addition, Susan is a permanent, accredited Certified Cash Manager.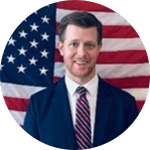 Taylor Moore
Taylor is the Commercial Counselor at the Embassy of the United States in Maputo, Mozambique.  Taylor previously served in the offices of the U.S. Commercial Service in Beijing, Shenyang, and Houston. After a first visit to China in 2003 as a student, he began his career in China in 2006 conducting quality control and procurement for Maryland Plastics, Inc., a U.S. manufacturer and importer. Later, he worked with British and Chinese counterparts to establish start-up energy-efficient lighting enterprises in China. Taylor became familiar with the Foreign Commercial Service while assisting the State of Maryland's economic development office in Shanghai on a high-level business mission in 2010. Shortly after, he returned to the United States to pursue a graduate degree and a new career in international trade policy and trade promotion.
Taylor was a Robertson Fellow at the Maryland School of Public Policy. He also was an undergraduate Banneker/Key Scholar at the University of Maryland College Park and completed a year at the International Chinese Language Program at National Taiwan University.
Forrest Nielsen  
Forrest Nielsen is an International Trade Specialist in the Office of Transportation and Machinery, International Trade Administration (ITA), U.S. Department of Commerce (DoC). His portfolio includes rail equipment, locomotives, rolling stock, and signaling equipment. He advised DoC policymakers on challenges to the U.S. railcar industry competitiveness and national security implications. He assists U.S. manufacturers to compete in international markets. He is working to identify rail equipment's clean technology, including electric and other low-carbon propulsion technologies in addressing climate change. He has been with the U.S. Department of Commerce since 1999. He received a Master's in International Studies from the American University in Washington, DC. He received a B.A. in International Relations from the University of Wisconsin – Madison.