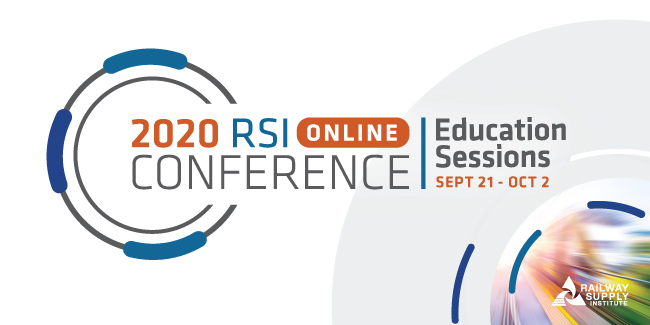 RSI 2020 will utilize GoToWebinar for our online education sessions. Click below to learn more and register for the sessions you'd like to attend. You will need to submit your name and email address for each session you'd like to attend. After registering for each webinar, you will receive a confirmation email with a calendar invite and information about joining the webinars. Please note that attendees must first register for the RSI Conference before registering for individual webinars.

For the best possible online experience, please run a GoToMeeting system check to troubleshoot before the conference begins. Find tips on how to increase your internet speed.
Please note that the welcome and keynote with CSX President and CEO Jim Foote has now been rescheduled to Wednesday, September 30 at 12:30 PM EDT.

If you have questions please contact us at rsiconference@rsiweb.org.
| | | |
| --- | --- | --- |
| Tuesday, September 22 | | |
| 11:00 AM EDT | RSI Supplier Advocacy: Making Washington Work for You | REGISTER HERE |
| 2:00 PM EDT | RTSA: The AAR's New Root Cause Analysis Course | REGISTER HERE |
| Wednesday, September 23 | | |
| 11:00 AM EDT | Facility Certification Process – RSI Quality Assurance Committee | REGISTER HERE |
| 2:00 PM EDT | History of Tank Car Regulations – RSI Quality Assurance Committee | REGISTER HERE |
| Thursday, September 24 | | |
| 11:00 AM EDT | Non-Destructive Testing (NDT) Workshop – RSI Quality Assurance Committee | REGISTER HERE |
| 2:00 PM EDT | RSI: FRA Office of Safety's Reorganization | REGISTER HERE |
| 2:00 PM EDT | RTSA: Protective Coatings Committee | REGISTER HERE |
| Friday, September 25 | | |
| 11:00 AM EDT | RSI-100 Product Certification / Material Inspection – RSI Quality Assurance Committee | REGISTER HERE |
| Monday, September 28 | | |
| 2:00 PM EDT | Supercapacitors, Locomotive Batteries and Starting Reliability | REGISTER HERE |
| Tuesday, September 29 | | |
| 11:00 AM EDT | How to plan your Railway Interchange experience during the uncertainty of COVID-19 | REGISTER HERE |
| 2:00 M EDT | RTSA: Asset Health Update & Modernizing Regulations… | REGISTER HERE |
| | | |
| Wednesday, September 30 | | |
| 11:00 AM EDT | LMOA: Locomotive Engine Coolant Best Practices & Engine Fuel Economy Testing | REGISTER HERE |
| 11:00 AM EDT | RSI: Digital Selling & Shifting Mindsets | REGISTER HERE |
| 12:30 PM EDT | RSI: Welcome & Keynote Address with Jim Foote (Rescheduled) | REGISTER HERE |
| 2:00 PM EDT | LMOA: Mechanical Committee Presentations | REGISTER HERE |
| Thursday, October 1 | | |
| 11:00 AM EDT | LMOA: Electrical Maintenance Committee Presentations | REGISTER HERE |
| 2:00 PM EDT | RTSA: AAR Interchange Rule Update | REGISTER HERE |
| Friday, October 2 | | |
| 11:00 AM EDT | LRW: The Art of Effective Storytelling In Business | REGISTER HERE |
Thank You to Our Sponsors