What is RSI and Our Rail Expo?
The Railway Supply Institute (RSI) is the only all-inclusive trade association for railway suppliers.
Representing more than 160 companies, RSI acts on behalf of the smallest to the largest suppliers to North American freight and passenger railroads and their 125,000 employees. Industry segments include mechanical, communications & signaling, maintenance of way and passenger industries.
The 2022 Rail Expo and Technical Conference will be held in Fort Worth, TX, a major hub for the railway industry. The city and region also plays home to important railroad operators, OEMs, and shippers.
At the upcoming conference, you'll have access to more than 1,000 important and relevant decision makers from not only Fort Worth, but from across North America and beyond!
---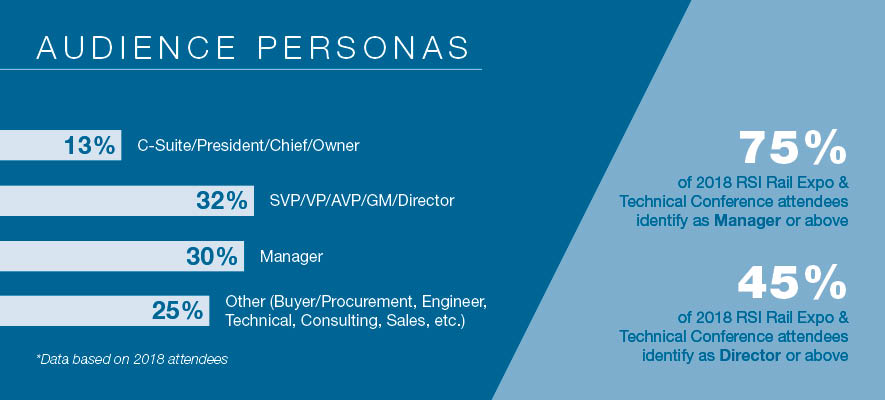 From Operating Officers and Engineers to Owners and Executives, we host a diverse group of attendees and bring together companies that include:
Class 1, Regional, and Shortline Railroads (Freight, Passenger, and Transit)
Railcar and Locomotive OEMs
Shippers
Leasing and Maintenance Companies
Parts/Component Manufacturers and Suppliers
Consultants and Service Providers
---
Who Attends Rail Expo?
RSI's Rail Expo and Technical Conference attendees come from a wide range of companies including, but not limited to:
Aberdeen Carolina & Western Railway
Amtrak
Arkansas & Missouri Railroad
Bayline Railroad
Belt Railway Company of Chicago
BNSF Railway
Canadian National Railway Company (CN Rail)
Canadian Pacific Railway
Chicago South Shore & South Bend Railroad
Continental Rail
CSX Transportation
Cummins
ExxonMobil
Federal Railroad Administration
Florida East Coast Railway
Gennessee and Wyoming Railroad
GATX Corporation
The Greenbrier Companies
Indiana Railroad Company
Iowa Northern Railway Company
New York & Atlantic Railway
Norfolk Southern
NRE
Paducah & Louisville Railway
Tennessee Valley Railroad
Transport Canada
U.S. Department of Homeland Security
Union Pacific
Via Rail Canada
West Tennessee Railroad
Wheeling & Lake Erie Railway
In addition to important and relevant companies and organizations, the following associations are represented at the RSI Expo and Technical Conference: